NanoES
News
---
May 24, 2023
---
May 22, 2023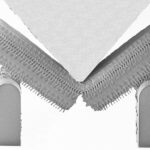 A beetle shell might look like solid armor to us, but it's actually composed of tiny fibers woven together in complex structures. These nanofibers that comprise many natural materials from shell to skin to cartilage are surprisingly tough and are able to handle force without fracturing.
---
May 11, 2023
---
April 14, 2023
---
April 12, 2023
---
September 14, 2022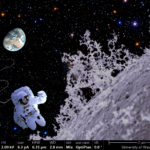 Every year in honor of National Nanotechnology Day on October 9th, the National Nanotechnology Coordinated Infrastructure (NNCI) hosts a Plenty of Beauty at the Bottom image contest to celebrate the beauty of the micro and nanoscale. Check out this year's winners and featured images.
---
September 13, 2022
"Forever chemicals," named for their ability to persist in water and soil, are a class of molecules that are ever-present in our daily lives, including food packaging and household cleaning products. Because these chemicals don't break down, they end up in our water and food, and they can lead to health effects, such as cancer or decreased fertility. Now a team of researchers at the University of Washington has created a new way to tackle these chemicals — a technology that could help treat industrial waste, destroy concentrated forever chemicals that already exist in the environment and deal with old stocks, such as the forever chemicals in fire-fighting foam.
---
September 8, 2022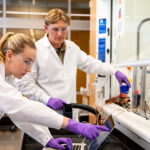 UW researchers have developed a novel method of synthesizing metal-organic frameworks that is fast, cheap, and sustainable.
---
August 8, 2022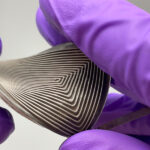 Wearable electronics, from health and fitness trackers to virtual reality headsets, are part of our everyday lives – but finding ways to continuously power them is a challenge. UW researchers, led by ME Assistant Professor and NanoES researcher Mohammad Malakooti, have developed an innovative solution to this challenge: a wearable thermoelectric device that converts body heat to electricity. 
---
July 6, 2022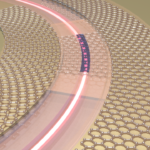 In a paper published online July 4 in Nature Nanotechnology, a team led by University of Washington scientists reported the design of an energy-efficient, silicon-based non-volatile switch that manipulates light through the use of a phase-change material and graphene heater. The exceptional performance of their switch could help advance both information technology and quantum computing.
---
Next page