NanoES
---
September 14, 2022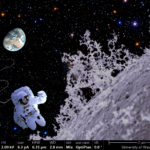 Every year in honor of National Nanotechnology Day on October 9th, the National Nanotechnology Coordinated Infrastructure (NNCI) hosts a Plenty of Beauty at the Bottom image contest to celebrate the beauty of the micro and nanoscale. Check out this year's winners and featured images.
---
September 13, 2022
"Forever chemicals," named for their ability to persist in water and soil, are a class of molecules that are ever-present in our daily lives, including food packaging and household cleaning products. Because these chemicals don't break down, they end up in our water and food, and they can lead to health effects, such as cancer or decreased fertility. Now a team of researchers at the University of Washington has created a new way to tackle these chemicals — a technology that could help treat industrial waste, destroy concentrated forever chemicals that already exist in the environment and deal with old stocks, such as the forever chemicals in fire-fighting foam.
---
September 8, 2022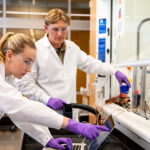 UW researchers have developed a novel method of synthesizing metal-organic frameworks that is fast, cheap, and sustainable.
---
August 8, 2022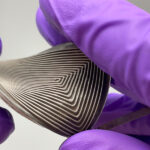 Wearable electronics, from health and fitness trackers to virtual reality headsets, are part of our everyday lives – but finding ways to continuously power them is a challenge. UW researchers, led by ME Assistant Professor and NanoES researcher Mohammad Malakooti, have developed an innovative solution to this challenge: a wearable thermoelectric device that converts body heat to electricity. 
---
July 6, 2022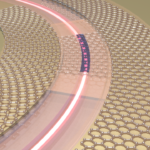 In a paper published online July 4 in Nature Nanotechnology, a team led by University of Washington scientists reported the design of an energy-efficient, silicon-based non-volatile switch that manipulates light through the use of a phase-change material and graphene heater. The exceptional performance of their switch could help advance both information technology and quantum computing.
---
June 14, 2022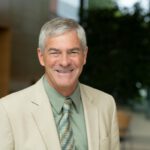 Jim De Yoreo, a Battelle fellow at Pacific Northwest National Laboratory and a UW affiliate professor of chemistry and materials science & engineering, has been nationally recognized as a scientific leader who forges partnerships between national laboratories and universities. Through advanced microscopy techniques, De Yoreo has spent his career trying to understand and predict the behavior of materials. For example, his team has determined the patterns that proteins form on a mineral surface, laying the groundwork for new strategies for synthesizing semiconductor and metallic nanoparticle circuits for photovoltaic or energy storage applications.
---
May 17, 2022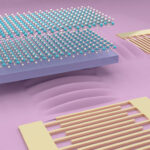 A team led by NanoES faculty member and UW ECE Professor Mo Li has developed a way of using sound waves to move subatomic quasiparticles known as 'excitons' further than ever before — leading to a faster, more energy-efficient computing circuit.
---
April 22, 2022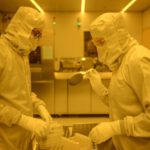 The Institute for Nano-engineered Systems (NanoES) has awarded four seed grants to researchers at Washington (UW) and Western Washington University to use nanotechnology tools to develop new, innovative technologies and devices. Awardees will receive up to $10,000 to carry out work in the UW's Washington Nanofabrication Facility (WNF) and Molecular Analysis Facility (MAF).
---
April 21, 2022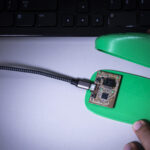 Three UW researchers, including NanoES faculty member Vikram Iyer, are exploring ways to make electronics more Earth-friendly.
---
April 20, 2022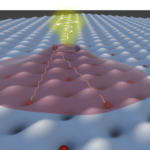 Researchers have discovered that light — from a laser — can trigger a form of magnetism in a normally nonmagnetic material. This magnetism centers on the behavior of electrons "spins," which have a potential applications in quantum computing. Scientists discovered that electrons within the material became oriented in the same direction when illuminated by photons from a laser. By controlling and aligning electron spins at this level of detail and accuracy, this platform could have applications in quantum computing, quantum simulation and other fields. The experiment, led by scientists at the University of Washington, the University of Hong Kong and the Pacific Northwest National Laboratory, was published April 20 in Nature.
---
Next page