Originally published on College of Engineering website
By Jamie Swenson and Chelsea Yates
July 16, 2018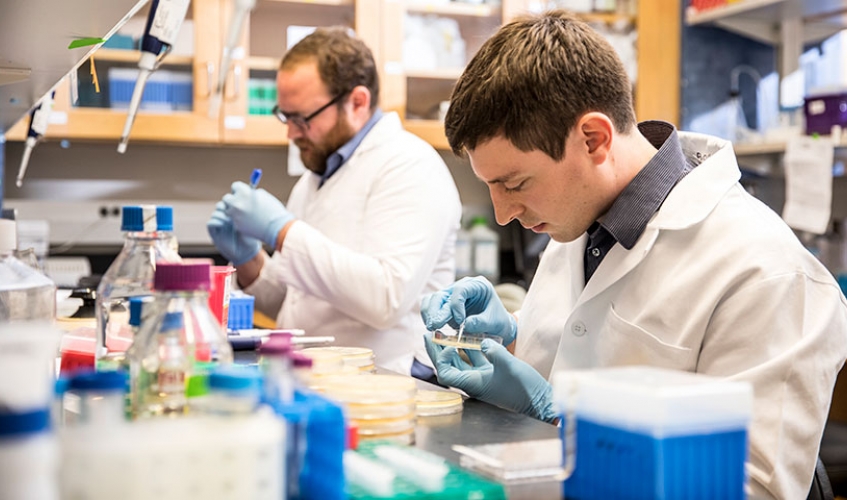 "The average cost of developing a new drug is 2.6 billion dollars," says David Younger, who received his Ph.D. in bioengineering from the University of Washington in 2017. "But it's not necessarily that it costs that much to develop one compound. It's that nine out of 10 compounds that enter clinical trials fail."
When it comes to drugs that target and disrupt specific protein interactions to fight maladies such as autoimmune diseases and cancer, screening candidates can be especially challenging. These drugs show great promise in their effectiveness — but there's a catch.
"If you design a drug to disrupt a particular protein interaction, it's likely that it's also going to disrupt others," says Younger.
These unplanned, or "off-target," interactions are very difficult to predict — and potentially lethal. In addition, they can typically be tested only one at a time using established screening techniques.
With these problems in mind, Younger invited fellow BioE Ph.D. students Bob Lamm and Randolph Lopez to join him in starting a business focused on improving drug-testing efficiency.
Rooted in Younger's thesis work on agglutination (put simply, yeast reproduction), their business, A-Alpha Bio, is developing a platform that uses genetically engineered yeast to help scientists test hundreds of drug candidates against thousands of potential targets.

By programming yeast cells to adorn their surfaces with human proteins and adding different drugs into the mix, the researchers can see which proteins and drugs interact — and how strongly.
"Basically, we can screen thousands of protein interactions in a single test tube," Younger explains.
But venturing into the world of business came with very different challenges than the ones presented by engineering microorganisms roughly 1/200 of a millimeter in diameter.
"It's like learning a completely new language," says Younger.
Learning the language of business
Robert Lamm (left) and David Younger of A-Alpha Bio. Photo by Dennis Wise / University of Washington
"We've always believed that commercialization is the best way to get technology to people who will benefit from it, and thanks to the help and mentorship we've received at the UW over the last year and a half, we're getting closer to doing just that," says Lamm.
After trying their luck — and succeeding — in the 2017 Science and Technology Showcase, hosted by the UW Buerk Center for Entrepreneurship and the Science and Engineering Business Association, the team entered A-Alpha Bio in the UW Business Plan Competition that same year.
Through the Buerk Center, they connected with local attorneys, entrepreneurs and investors who helped coach the team as they built out their business plan, presentation and pitch for the competition.
"Each step through the Business Plan Competition was accompanied by workshops and panels that opened our eyes to more and more we didn't know," says Lamm.
"We had no idea what we were doing," adds Younger. "You put a pitch together and show it to people, and they say, 'Nope, that's a science pitch. Start over.'"
Though they didn't place, they took home the Perkins Coie Best Innovation / Technology Idea Prize, and a lot of encouragement. That support fueled them to dive deeper into the business world.
With the help of UW CoMotion, A-Alpha Bio filed a provisional (and later full) patent for their technology. The team applied for and received a grant from the CoMotion Innovation Fund, a partnership between CoMotion and the Washington Research Foundation that helps applied research advance from the lab to the marketplace. Younger also received a fellowship through CoMotion, enabling him to stay at the UW for a postdoctoral year to continue working with Lamm and Lopez on sharpening their product.
Because of their achievements in the 2017 Business Plan Competition, the team applied for and was accepted into the Buerk Center's 2017-18 Jones + Foster Accelerator, a structured program that helps early-stage student companies through their initial months.
Randolph Lopez explains A-Alpha Bio's technology at last spring's UW Business Plan Competition. Photo courtesy of the UW Buerk Center for Entrepreneurship
"The Accelerator program allowed us to hone our business development skills," says Lopez. "Seattle has an incredible innovation community, and I still can't believe how much access the program gave us to local experts and entrepreneurs."
Lopez also took entrepreneurship classes, which he found just as, if not more, beneficial than the challenges.
"Many people on campus are familiar with the Buerk Center because of its competitions, but it offers so much more through its courses and certificate programs," he says.
Technology translation for the greater good
Younger, Lamm and Lopez say that the work they've done over the last 18 months to develop their business has been like pursuing an intensive second graduate degree.
In addition to the Buerk Center and CoMotion, the team credits electrical engineering professor Eric Klavins and biochemistry professor David Baker as integral to their growth.
"Not many PIs would be as generous with their time, lab space, equipment and resources as these two have been," Younger says. "Additionally, Lance Stewart, the Senior Director of Strategy for the UW Institute for Protein Design, has placed a large emphasis on commercializing technology out of the lab, and has helped us considerably with translation and strategy."
A-Alpha Bio took home the $25,000 first place prize from the 2018 UW Business Plan Competition and is applying their winnings toward equipment for their new lab in Fluke Hall. Photo courtesy of the UW Buerk Center for Entrepreneurship
This spring A-Alpha Bio competed in the 2018 Hollomon Health Innovation Challenge and the Business Plan Competition. The team won first place in both.
The team is applying their winnings toward equipment for their own lab in Fluke Hall, which they moved into at the beginning of July.
In the long term, they see potential for their technology to become the most cost- and time-effective method of screening drug interactions, in turn helping pharmaceutical companies make their products safer and cheaper.
"The culmination of the support we've received from UW and the Seattle community has made it possible to start our company," says Younger. "I have no idea how we would have gone about it otherwise."
Keep up with A-Alpha Bio at aalphabio.com