Student entrepreneurs recently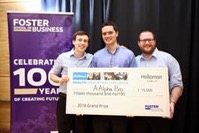 dazzled at the 2018 Hollomon Health Innovation Challenge, hosted by the UW Foster School's Buerk Center for Entrepreneurship. Intricate prototypes and innovative solutions to today's health and healthcare problems were on display from twenty-two teams of college students—prompting many judges to call this year's competition "the best one yet." The $15,000 Hollomon Family grand prize went to A-Alpha Bio, a team of University of Washington Bioengineering PhD students and recent graduates including David Younger, who is now a postdoc in Eric Klavins' lab.
A-Alpha Bio developed an AlphaSeq technology which improves clinical trial success rates by helping pharmaceutical companies fully characterize their drug candidates in the pre-clinical stage. The team previously won the $2,500 Perkins Coie Best Innovation Idea Prize at the 2017 UW Business Plan Competition, and recently completed the Jones + Foster Accelerator.
Both David Younger and Eric Klavins are NanoES residents. Congratulations on this fine accomplishment!
Read more about the 2018 Hollomon Health Innovation Challenge over at the Foster blog.