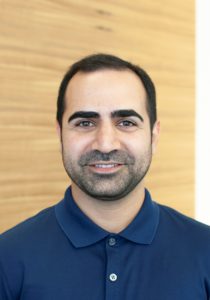 We are excited to welcome Mohammad Malakooti to UW as an assistant professor in mechanical engineering and NanoES faculty member. His research focuses on the development of materials that match the extraordinary adaptability, rich multi-functionality, and embodied intelligence of natural materials by bridging the gap between nanoscale engineering and system-level functionality.
Although there has been remarkable progress with synthesizing nanoscale structures and materials, it remains difficult to harness their properties to create mechanically robust and long-lasting sensors, actuators, and energy harvesting transducers at the scale of biological tissue and organs.
Malakooti's group will address this bottleneck through research that tackles grand challenges in materials synthesis and integration, controlled stability (i.e. dimensional, crystalline, physical, and chemical) of multiphase materials at the micro/nanoscale level, and versatile manufacturing of functional materials that exhibit durability and longevity under real-world conditions. Progress within these core research areas will have an immediate impact on printed electronic skin, multifunctional composites, integrated nanoscale devices, stretchable tactile sensors, among other emerging application domains.
Prior to joining the UW, Malakooti was a research scientist at Carnegie Mellon University, where he explored stretchable electronics and flexible devices for wearable computing and human-computer interactions. He also held a two-year postdoctoral appointment in the Aerospace Engineering Department at the University of Michigan, where he received the 2017 Outstanding Postdoctoral Fellow Award for his demonstration of excellence in all areas of research, teaching, mentoring, service, and leadership.
Malakooti received his Ph.D. in mechanical engineering from University of Florida in 2015. He holds a master's degree in aerospace engineering ('10) and a bachelor's degree in mechanical engineering ('08) from Iran University of Science and Technology.
The interdisciplinary nature of his research has led to more than 60 publications consisting of 30 peer-reviewed articles published in high impact journals, including Nature Nanotechnology, Energy & Environmental Science, and Advanced Materials and was awarded the ASME's 2016 Best Paper Award in Energy Harvesting.
Learn more about the Malakooti research on his lab website.