via UW News:
The University of Washington has launched a new institute aimed at accelerating research at the nanoscale: the Institute for Nano-Engineered Systems, or NanoES. Housed in a new, multimillion-dollar facility on the UW's Seattle campus, the institute will pursue impactful advancements in a variety of disciplines — including energy, materials science, computation and medicine. Yet these advancements will be at a technological scale a thousand times smaller than the width of a human hair.
The institute was launched at a reception Dec. 4 at its headquarters in the $87.8-million Nano Engineering and Sciences Building. During the event, speakers including UW officials and NanoES partners celebrated the NanoES mission to capitalize on the university's strong record of research at the nanoscale and engage partners in industry at the onset of new projects.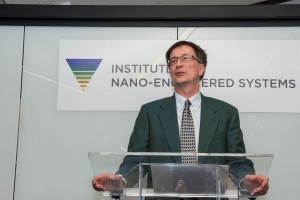 The vision of NanoES, which is part of the UW's College of Engineering, is to act as a magnet for researchers in nanoscale science and engineering, with a focus on enabling industry partnership and entrepreneurship at the earliest stages of research projects. According to Karl Böhringer, director of the NanoES and a UW professor of electrical engineering and bioengineering, this unique approach will hasten the development of solutions to the field's most pressing challenges: the manufacturing of scalable, high-yield nano-engineered systems for applications in information processing, energy, health and interconnected life.
"The University of Washington is well known for its expertise in nanoscale materials, processing, physics and biology — as well as its cutting-edge nanofabrication, characterization and testing facilities," said Böhringer, who stepped down as director of the UW-based Washington Nanofabrication Facility to lead the NanoES. "NanoES will build on these strengths, bringing together people, tools and opportunities to develop nanoscale devices and systems."
The centerpiece of the NanoES is its headquarters, the Nano Engineering and Sciences Building. The building houses 90,300 square feet of research and learning space, and was funded largely by the College of Engineering and Sound Transit. It contains an active learning classroom, a teaching laboratory and a 3,000-square-foot common area designed expressly to promote the sharing and exchanging of ideas. The remainder includes "incubator-style" office space and more than 40,000 square feet of flexible multipurpose laboratory and instrumentation space. The building's location and design elements are intended to limit vibrations and electromagnetic interference so it can house sensitive experiments.
NanoES will house research in nanotechnology fields that hold promise for high impact, such as:
Augmented humanity, which includes technology to both aid and replace human capability in a way that joins user and machine as one – and foresees portable, wearable, implantable and networked technology for applications such as personalized medical care, among others.
Integrated photonics, which ranges from single-photon sensors for health care diagnostic tests to large-scale, integrated networks of photonic devices.
Scalable nanomanufacturing, which aims to develop low-cost, high-volume manufacturing processes. These would translate device prototypes constructed in research laboratories into system- and network-level nanomanufacturing methods for applications ranging from the 3-D printing of cell and tissue scaffolds to ultrathin solar cells.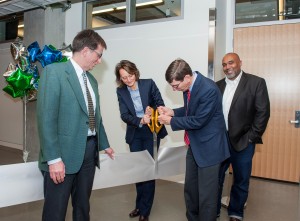 Collaborations with other UW-based institutions will provide additional resources for the NanoES. Endeavors in scalable nanomanufacturing, for example, will rely on the roll-to-roll processing facility at the UW Clean Energy Institute's Washington Clean Energy Testbeds or on advanced surface characterization capabilities at the Molecular Analysis Facility. In addition, the Washington Nanofabrication Facility recently completed a three-year, $37 million upgrade to raise it to an ISO Class 5 nanofabrication facility.
UW faculty and outside collaborators will build new research programs in the Nano Engineering and Sciences Building. Eric Klavins, a UW professor of electrical engineering, recently moved part of his synthetic biology research team to the building, adjacent to his collaborators in the Molecular Engineering & Sciences Institute and the Institute for Protein Design.
"We are extremely excited about the interdisciplinary and collaborative potential of the new space," said Klavins.
The NanoES also has already produced its first spin-out company, Tunoptix, which was co-founded by Böhringer and recently received startup funding from IP Group, a U.K.-based venture capital firm.
"IP Group is very excited to work with the University of Washington," said Nena Golubovic, physical sciences director for IP Group. "We are looking forward to the new collaborations and developments in science and technology that will grow from this new partnership."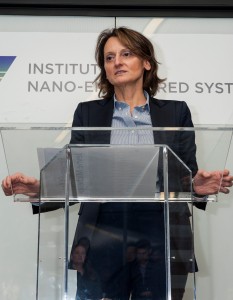 "We are eager to work with our partners at the IP Group to bring our technology to the market, and we appreciate their vision and investment in the NanoES Integrated Photonics Initiative," said Tunoptix entrepreneurial lead Mike Robinson. "NanoES was the ideal environment in which to start our company."
The NanoES leaders hope to forge similar partnerships with researchers, investors and industry leaders to develop technologies for portable, wearable, implantable and networked nanotechnologies for personalized medical care, a more efficient interconnected life and interconnected mobility. In addition to expertise, personnel and state-of-the-art research space and equipment, the NanoES will provide training, research support and key connections to capital and corporate partners.
"We believe this unique approach is the best way to drive innovations from idea to fabrication to scale-up and testing," said Böhringer. "Some of the most promising solutions to these huge challenges are rooted in nanotechnology."
The NanoES is supported by funds from the College of Engineering and the National Science Foundation, as well as capital investments from investors and industry partners.