NanoES Institute
NanoES
---
October 30, 2018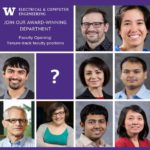 The Department of Electrical & Computer Engineering (ECE) at the University of Washington, Seattle invites applications for multiple full-time tenure-track positions with a nine-month service period annually, from exceptional candidates with strong record of collaboration and creativity. Hiring will be made primarily at the tenure-track assistant professor level with an anticipated start date of September 16, 2019….
---
February 9, 2018
The Seattle Daily Journal of Commerce (DJC) has selected 12 finalists for the 2017 Building of the Year award. Cast your vote for NanoES here!
---
December 6, 2017
via UW News: The University of Washington has launched a new institute aimed at accelerating research at the nanoscale: the Institute for Nano-Engineered Systems, or NanoES. Housed in a new, multimillion-dollar facility on the UW's Seattle campus, the institute will pursue impactful advancements in a variety of disciplines — including energy, materials science, computation and medicine. Yet these…
---
June 27, 2017
The NanoES Institute offers 35,000 square feet of labs (including wet and optical space), offices, meeting rooms, communal areas, and extremely low vibration/EMI areas in a brand-new building. This space creates an opportunity to scale up ongoing research efforts with strong momentum and to create new, high-impact programs or shared instrumentation facilities. To this end, NanoES is announcing a request for proposals. We are seeking inventive, well-thought-out ideas to leverage this space for maximum effect including, but not limited to, new center efforts and hiring initiatives endorsed by department chairs.
---